Wednesday, March 30, 2005
2005/03/07...Easter...the first get-togeter at Grandpa's new house. :) NOTE: the collage of pics was created with picasa 2.

Posted by

Tyler Weaver
at 1:46 PM
No comments:


2005/03/06... all that is left is the three stumps. I might post more later...but until then this is the end of tree removal04-05

Posted by

Tyler Weaver
at 1:21 PM
No comments:


Wednesday, March 23, 2005
Monday, March 14, 2005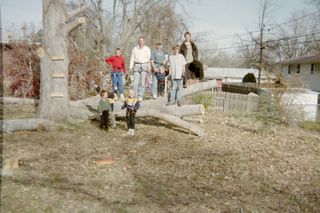 November 2004 us and the Gibas working on grandma Weavers house... the tree that we are standing on we cut up and removed on 2005/03/12 and the tree to the left we failed just before we left that day... from left to right it is: Jonathan, Marcus(right behind him), Daniel Gibas, Peter G, Mr. Gibas, Tyler G, Paul G., Tyler W, Ryan W... just a little of history.

Posted by

Tyler Weaver
at 8:59 PM
No comments: